Locations
Previously known as Yee Chong Wing & Co, Te Aro Seed Company was located on the Corner of Manners and Herbert (now Victoria) Streets until 1910.[1][2]
From 1910 to 1913, Yee Chong Wing & Co was located at 174 Cuba Street.[2][3]
In 1914, the name was changed to the Te Aro Seed Co[4] (although the name Yee Chong Wing was also used until at least 1949[5]), and the third and final location was at 56 Courtenay Place on the corner with Tory Street, until it closed in the 1980s.
Advertising in the Evening Post on 28 September 1918 (Before the end of the First World War) recommended that people grow their own vegetables, to help cut down food bills. Seeds and plants from Te Aro Seed Co., that were tested in their Trial Grounds, could be relied upon to obtain high quality produce. Ornamental shrubs and hedges were grown in conditions to withstand Wellington's weather.[6]
8; Te Aro Seed Company, shop front, Courtenay Place (c 1914?) Wellington City Council Archives Series 00157:8.

This photograph is used by the Wellington City Council as an example of heritage signage.[7]

Corner of Courtenay Place and Tory Street, June 2017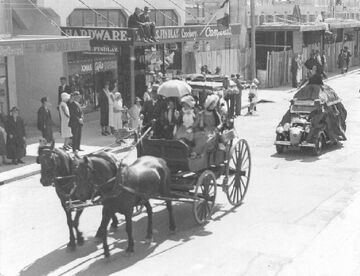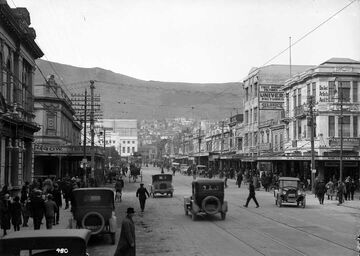 Advertising
Advertisements
Dominion Federation of N.Z. Chinese Commercial Growers (Inc.). (1949, September 1). The N.Z. Chinese Growers' Monthly Journal. [8]

Advertisement: YEE CHONG WING & CO. (Te Aro Seeds Ltd.) SEED MERCHANTS AND IMPORTERS. Telephone: 51-465. 58 Courtney Place, Wellington, N.Z. G.P.O. Box 320, Wellington.
Publications
Te Aro Seed Co would publish and distribute garden annuals, which contained planting and gardening tips and tables, as well as serve as a catalogue that customers would order from.
Te Aro Seed Company: [Garden guide or garden annual - price lists. 1900s-1950s] Held at the National Library of New Zealand[9]
Brightly coloured front cover shows a frontal illustration of a symmetrical house with two smoking chimneys, in a geometric art deco inset. colour photo-mechanical print(s). Physical Description: Offset print, on cover of booklet, 232 x 152 mm.

Cover of sales catalogue for Te Aro Seed Company, Courtenay Place, Wellington. Shows an illustration of an assortment of vegetables arranged in a field: pumpkin, swede, turnip, carrot, beetroot, potato, onion, celery, leek, marrow, cabbage, lettuce, cauliflower, green and yellow beans, peas.

Colour photo-mechanical print(s) on cover of booklet.

Physical Description: Offset print, 247 x 156 mm.

Provenance: Purchased from Barney Brewster, Nelson, in 2004.

Shows a woman in straw hat, check shirt and dungarees, standing in a filed of vegetables, holding a wooden box of assorted vegetables.

Physical Description: Photolithograph, on cover of catalogue 215 x 140 mm.

Provenance: Estate of Hallam Leslie Secker, 2002.

Shows a smiling young Chinese woman reading a Te Aro seed catalogue, with a basket of vegetables in front of her, and springs of pink blossom behind her. The green and yellow logo of the New Zealand Horticultural Trades Association is at lower right.

The Te Aro Seed Company was run by a Chinese family, the Ting family.

Quantity: 1 colour photo-mechanical print(s).

Physical Description: Photolithograph, on cover of booklet, 218 x 142 mm.

Alternative form available: Scanned from original. File print in Ephemera Room
Prizes
In December 1944, Te Aro Seed Company sponsored a prize of 5/- of seed for a Horticultural Show in Upper Hutt.[10]
Agents
Several businesses, including florists, greengrocers and a cycle and saddlery shop in the greater Wellington area, as well as further afield, acted as agents for the Te Aro Seed Co.[11][12][13]
---
Categories
Map
Scroll and zoom on the map to explore locations in Wellington of significance to the Wellington Chinese community.
Note: Number in black (eg: 8) indicate more than one place of interest. Please zoom in to view.
Ad blocker interference detected!
Wikia is a free-to-use site that makes money from advertising. We have a modified experience for viewers using ad blockers

Wikia is not accessible if you've made further modifications. Remove the custom ad blocker rule(s) and the page will load as expected.