THE UNFORTUNATE CHINESE.[1][2]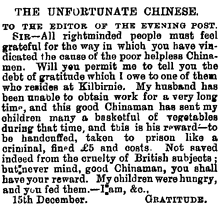 TO THE EDITOR OF THE EVENING POST.
Sir— All rightminded people must feel grateful for the way in which you have vindicated the cause of the poor helpless Chinamen. Will you permit me to tell you the debt of gratitude which I owe to one of then who resides at Kilbirnie. My husband has been unable to obtain work for a very long time, and this good Chinaman has sent my children many a basketful of vegetables during that time, and this is his reward— to be handcuffed, taken to prison like a criminal, fined £5 and costs. Not saved indeed from the cruelty of British subjects; but never mind, good Chinaman, you shall have your reward. My children were hungry, and you fed them. — I am, &c.,
15th December.
GRATITUDE.
---
↑ Gratitude (nom-de-plume). (1881, December 19). The Unfortunate Chinese. Evening Post, p. 3. http://paperspast.natlib.govt.nz/newspapers/EP18811219.2.22
↑ McKirdy, Pauline. (2005). Heritage Help - Hataitai Local History - Chinese. Retrieved 11 January 2018, from http://www.heritagehelp.co.nz/chinese.html
Categories
Map
Scroll and zoom on the map to explore locations in Wellington of significance to the Wellington Chinese community.
Note: Number in black (eg: 8) indicate more than one place of interest. Please zoom in to view.