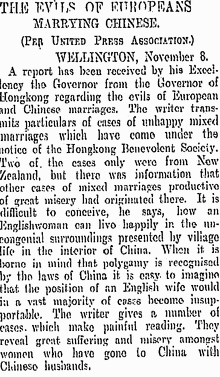 (Per United Press Association.)
WELLINGTON, November 8.
A report has been received by his Excellency the Governor from the Governor of Hongkong regarding the evils of European and Chinese marriages. The writer transmits particulars of cases of mixed marriages which have come under the notice of the Hongkong Benevolent Society. Two of the cases only were from New Zealand, but there was information that other cases of mixed marriages productive of great misery had originated there. It is difficult to conceive, he says, how an Englishwoman can live happily in the uncongenial surroundings presented by village life in the interior of China. When it is borne in mind that polygamy is recognised by the laws of China it is easy to imagine that the position of an English wife would in a vast majority of cases become insupportable. The writer gives it number of cases, which make painful reading. They reveal great suffering and misery amongst women who have gone to China with Chinese husbands.
---
Categories
Map
Scroll and zoom on the map to explore locations in Wellington of significance to the Wellington Chinese community.
Note: Number in black (eg: 8) indicate more than one place of interest. Please zoom in to view.