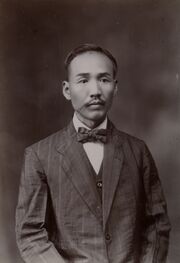 Sing Yu Wu (Born at Canton) arrived in New Zealand aboard the Marama, aged 38. As part of the restrictive legislation in place for Chinese, Sing Yu Wu paid the £100 Poll Tax, and was issued his Certificate in Wellington on 2 October 1923.[1]
↑ Archives New Zealand. (2015). Sing Yu Wu, 1923 [Photo]. Retrieved from https://www.flickr.com/photos/archivesnz/21145191093/
---
Categories
Map
Scroll and zoom on the map to explore locations in Wellington of significance to the Wellington Chinese community.
Note: Number in black (eg: 8) indicate more than one place of interest. Please zoom in to view.
Ad blocker interference detected!
Wikia is a free-to-use site that makes money from advertising. We have a modified experience for viewers using ad blockers

Wikia is not accessible if you've made further modifications. Remove the custom ad blocker rule(s) and the page will load as expected.