Robert Joseph Ting QSM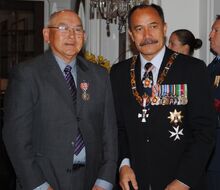 Second son and middle child of Molly Ting (nee Low) and Joseph Ting.
Robert Ting was awarded the Queen's Service Medal in 2012 for services to the Chinese community.[1][2][3]
Robert Ting has been involved in the Wellington Chinese community for more than 50 years. He is the Treasurer of the Tung Jung Association of New Zealand. The association was founded in 1926 by Southern Chinese immigrants to New Zealand. He was a member of the editorial committee that produced the book entitled 'A History for the 80th Anniversary of the Tung Jung Association of NZ Inc'. He is the honorary auditor for both the New Zealand Chinese Association and the Wellington Chinese Association. He has also been the New Zealand Chinese Association's treasurer, and was the treasurer for the Wellington Chinese Sports and Cultural Centre from 1975 to 1992. Mr Ting was President of the Lions Club of Newlands and the Zone Chair of Lions District 202H during his 22-year membership.[4]
---
Categories
Map
Scroll and zoom on the map to explore locations in Wellington of significance to the Wellington Chinese community.
Note: Number in black (eg: 8) indicate more than one place of interest. Please zoom in to view.