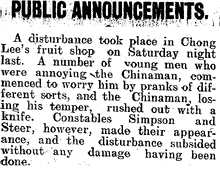 PUBLIC ANNOUNCEMENTS.[1]
A disturbance took place in Chong Lee's fruit shop on Saturday night last. A number of young men who were annoying the Chinaman, commenced to worry him by pranks of different sorts, and the Chinaman, losing his temper, rushed out with a knife. Constables Simpson and Steer, however, made their appearance and the disturbance subsided without any damage having been done.
---
↑ Public Announcements. (1908, August 17). Marlborough Express, p. 8. https://paperspast.natlib.govt.nz/newspapers/MEX19080817.2.62
Categories
Map
Scroll and zoom on the map to explore locations in Wellington of significance to the Wellington Chinese community.
Note: Number in black (eg: 8) indicate more than one place of interest. Please zoom in to view.