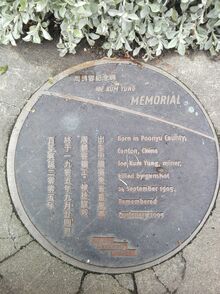 68 year old
[1]
Joe Kum Yung (aka Joe Kum Young) was murdered on
Haining Street
by Lionel Terry (aka Edward Lionel Terry) on 24 September
1905
, in a hate crime
[1]
[2]
[3]
.
Born in Canton[1], Joe Kum Yung had arrived in New Zealand in around 1880[3], after spending about four years in Victoria, Australia[4]. A mining accident left him with a broken leg, and he was him unable to continue to work[3][4]. Whilst recovering in Grey Hospital, the local Chinese community there raised sufficient funds for him to return to China, however he decided to travel to Wellington instead[4] where he was living on the streets[2]. Lionel Terry shot him at 7:45 pm with a revolver, and Joe Kum Yung died around 10:00 pm that night[3].
Much of the story of Joe Kum Young's death focuses on Lionel Terry, and very little is known about Joe Kum Young.[5] Lionel Terry had strong Anti-Asian immigration views[3][6][7], despite only arriving in New Zealand four years earlier.[1]
A plaque on Haining Street commemorates Joe Kum Yung, and was unveiled in 2005, the 100th anniversary of the killing.[3][8]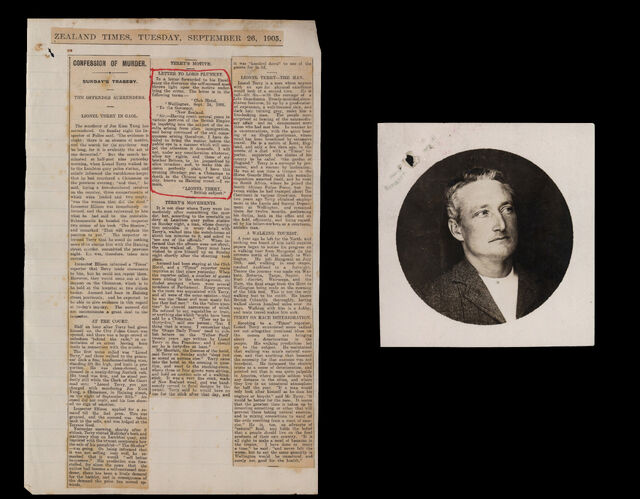 ↑ 1.0 1.1 1.2 1.3 Archives New Zealand. (2016). Murder of Joe Kum Yung by Lionel Terry [Photo]. Retrieved from https://www.flickr.com/photos/archivesnz/28911946613/
↑ 2.0 2.1 'Race killing in Wellington's Haining St', URL: https://nzhistory.govt.nz/race-killing-lionel-terry-murders-joe-kum-yung-in-haining-st-wellington, (Ministry for Culture and Heritage), updated 19-Jan-2017
↑ 3.0 3.1 3.2 3.3 3.4 3.5 Murder aimed to spread 'yellow peril' message. (n.d.). Retrieved 10 July 2017, from http://www.stuff.co.nz/national/crime/64512110/murder-aimed-to-spread-yellow-peril-message
↑ 4.0 4.1 4.2 Wairarapa Daily Times. (1905, September 26). Wairarapa Daily Times, p. 6. http://paperspast.natlib.govt.nz/newspapers/WDT19050926.2.30
↑ WellUrban: R.I.P. Joe Kum Yung. (2005, September 25). Retrieved 9 January 2018, from http://wellurban.blogspot.co.nz/2005/09/rip-joe-kum-yung.html
↑ Charles Archibald Lawrence Treadwell. (2016). Famous New Zealand Trials — The Trial of Lionel Terry | NZETC. Retrieved 9 January 2018, from http://nzetc.victoria.ac.nz/tm/scholarly/tei-Gov08_04Rail-t1-body-d11.html
↑ Archives New Zealand. (2013, September 2). Lionel Terry kills Joe Kum Young, Haining Street, 1905 | New Zealand Times, September 26, 1905. Retrieved 9 January 2018, from https://www.flickr.com/photos/archivesnz/9779039374/in/photolist-4kjVNC-5Zu3s7-GRrU8q-dKxFCD-fU98H9-Zgxkce-5Zq6jr-dPVBsR-mmTEeM-RhHPJs-9sfgXQ-dSSLUP-9ethnv-QFoqEn-9m5tyC-4FTNfS-i7g72H-9iwpGV-r4P8tF-hmCErA-9jt8DM-a14tFb-7CPsiZ-z43ZVQ-dLHAiX-2gYed-9ethwB-i7i73S-dSiieT-b7LU8H-i7i6HG-XbYYcR-9jtbGa-4BnzXV-exNe9k-7Yckkq-8NHjEb-9m2nQe-9m5eTd-8fTTyr-9csffE-jD3f6D-9m5uHy-7JVRyH-8fVwHb-pXmDmX-GCiVFw-7MPoCm-YmoH1r-qMZMA2
↑ Radio New Zealand. (2015, January 30). How to be dead - Writer Chris Tse | Voices | RNZ. Retrieved 10 July 2017, from http://www.radionz.co.nz/national/programmes/voices/audio/20165499/how-to-be-dead-writer-chris-tse
---
Categories
Map
Scroll and zoom on the map to explore locations in Wellington of significance to the Wellington Chinese community.
Note: Number in black (eg: 8) indicate more than one place of interest. Please zoom in to view.