The elderly Joe Kum Yung was murdered on Haining Street by Lionel Terry on 24 September 1905, in a hate crime[1][2].
He had arrived in New Zealand in around 1880[2], after spending about four years in Victoria, Australia[3]. A mining accident left him with a broken leg, and he was him unable to continue to work[2][3]. Whilst recovering in Grey Hospital, the local Chinese community there raised sufficient funds for him to return to China, however he decided to travel to Wellington instead[3] where he was living on the streets[1]. Lionel Terry shot him at 7:45 pm with a revolver, and Joe Kum Yung died around 10:00 pm that night[2].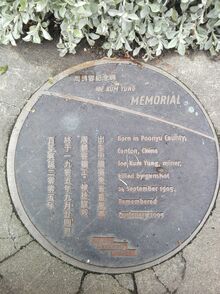 A plaque on Haining Street commemorates Joe Kum Yung, and was unveiled in 2005, the 100th anniversary of the killing.[2][4]
---
Categories
Map
Scroll and zoom on the map to explore locations in Wellington of significance to the Wellington Chinese community.
Note: Number in black (eg: 8) indicate more than one place of interest. Please zoom in to view.
Ad blocker interference detected!
Wikia is a free-to-use site that makes money from advertising. We have a modified experience for viewers using ad blockers

Wikia is not accessible if you've made further modifications. Remove the custom ad blocker rule(s) and the page will load as expected.