The elderly Joe Kum Yung was murdered on Haining Street by Lionel Terry on 24 September 1905, in a hate crime[1][2].
He had arrived in New Zealand in around 1880, and a mining accident had left him unable to continue to work[2]. He was living on the streets, and hoped that his friends would assist him in returning to China[1]. Lionel Terry shot him at 7:45 pm with a revolver, and Joe Kum Yung died around 10:00 pm that night[2].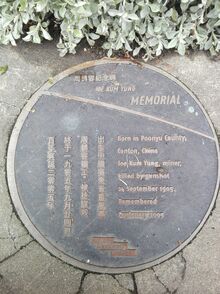 A plaque on Haining Street commemorates Joe Kum Yung, and was unveiled in 2005, the 100th anniversary of the killing.[2][3]
↑ 1.0 1.1 'Race killing in Wellington's Haining St', URL: https://nzhistory.govt.nz/race-killing-lionel-terry-murders-joe-kum-yung-in-haining-st-wellington, (Ministry for Culture and Heritage), updated 19-Jan-2017
↑ 2.0 2.1 2.2 2.3 Murder aimed to spread 'yellow peril' message. (n.d.). Retrieved 10 July 2017, from http://www.stuff.co.nz/national/crime/64512110/murder-aimed-to-spread-yellow-peril-message
↑ Radio New Zealand. (2015, January 30). How to be dead - Writer Chris Tse | Voices | RNZ. Retrieved 10 July 2017, from http://www.radionz.co.nz/national/programmes/voices/audio/20165499/how-to-be-dead-writer-chris-tse
---
Categories
Map
Scroll and zoom on the map to explore locations in Wellington of significance to the Wellington Chinese community.
Note: Number in black (eg: 8) indicate more than one place of interest. Please zoom in to view.
Ad blocker interference detected!
Wikia is a free-to-use site that makes money from advertising. We have a modified experience for viewers using ad blockers

Wikia is not accessible if you've made further modifications. Remove the custom ad blocker rule(s) and the page will load as expected.