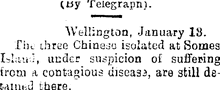 Isolated Chinese
(By Telegraph).
Wellington, January 18.
The three Chinese isolated at Somes Island, under suspicion of suffering from a contagious disease,are still detained there.[1]
---
↑ Isolated Chinese. (1904, January 13). Hastings Standard, p. 3. http://paperspast.natlib.govt.nz/newspapers/HAST19040113.2.22
Categories
People
Locations
News

Organisations
Businesses
Advertisements

Error creating thumbnail: Invalid thumbnail parameters

All
Map
Scroll and zoom on the map to explore locations in Wellington of significance to the Wellington Chinese community.
Note: Number in black (eg: 8) indicate more than one place of interest. Please zoom in to view.