Haining Street, along with nearby Frederick Street were the central points of the early Chinese community in Wellington (Often referred to as the "Celestial Quarter", "Chinatown" or "Chinese Quarter"). Members of the Chinese community in Wellington would call the street Tong Yan Gaai (唐人街), or Chinese People's Street[1], although this Cantonese term is often used generically to refer to 'Chinatown'.
Haining Street in particular was notorious for gambling, opium and alcohol sales[1][2][3][4][5][6][7], which lead to police raids[4][5][8], and was the scene of the infamous murder of Joe Kum Yung by Lionel Terry on 24 September 1905[1][2][9].
This area is considered by the Wellington City Council as significant to Wellington's heritage.[10]
Businesses 
Yuen Tung & Co sold Chinese antiques, embroidery, and provisions. Operated from ? to ? on the corner of Haining and Taranaki Streets.
Jo Farr operated a two story, four bedroom boarding house, which was destroyed in a fire in 1897 that resulted in the death of Jo Li.
Images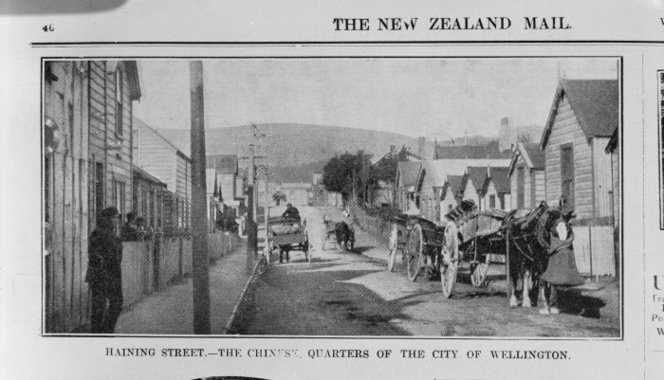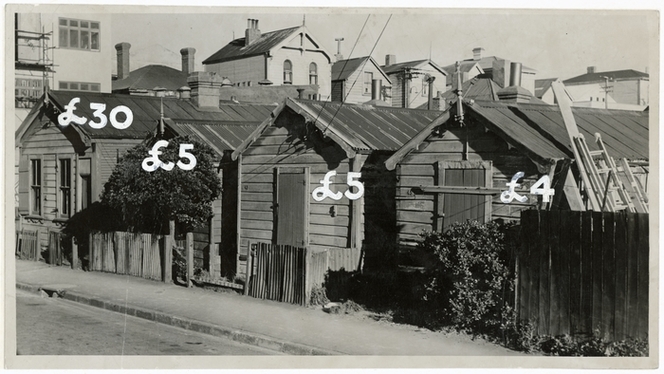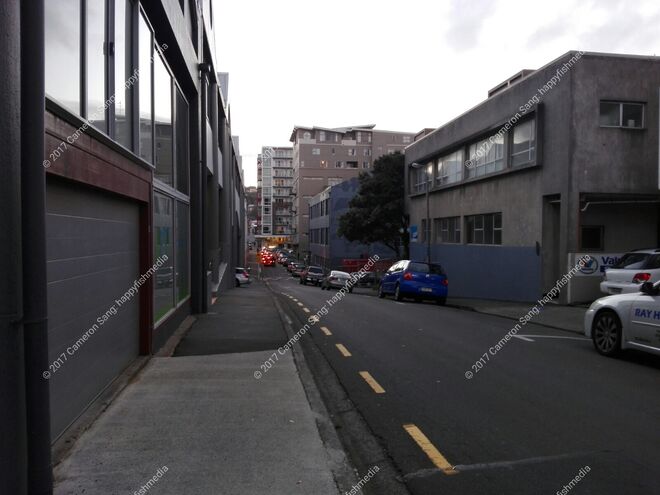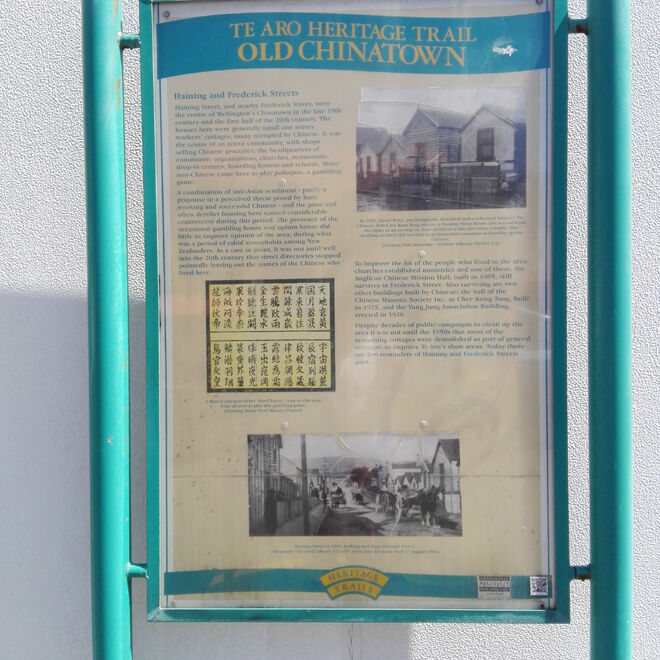 External References
Manying Ip, 'Chinese - Later settlement', Te Ara -
the Encyclopedia of New Zealand, http://www.TeAra.govt.nz/en/photograph/511/haining-street-wellington updated 25 Mar 2015 (accessed 4 April 2017)
↑ 1.0 1.1 1.2 Opium dens, gambling and murder, ADRIANA WEBER, The Wellingtonian,1 April 2013 http://www.stuff.co.nz/dominion-post/news/local-papers/the-wellingtonian/features/8565483/Opium-dens-gambling-and-murder
↑ 2.0 2.1 Murder aimed to spread 'yellow peril' message. (n.d.). Retrieved 10 July 2017, from http://www.stuff.co.nz/national/crime/64512110/murder-aimed-to-spread-yellow-peril-message
↑ Radio New Zealand. (2015, January 30). How to be dead - Writer Chris Tse | Voices | RNZ. Retrieved 10 July 2017, from http://www.radionz.co.nz/national/programmes/voices/audio/20165499/how-to-be-dead-writer-chris-tse
↑ 4.0 4.1 HAINING STREET HOSPITALITY, (New Zealand Truth, Issue 880, 7 October 1922) http://wellingtonchinesehistory.wikia.com/wiki/HAINING_STREET_HOSPITALITY,_(New_Zealand_Truth,_Issue_880,_7_October_1922)
↑ 5.0 5.1 HAINING STREET HABITUES (New Zealand Times, Volume XL, Issue 9017, 14 April 1915) http://wellingtonchinesehistory.wikia.com/wiki/HAINING_STREET_HABITUES_(New_Zealand_Times,_Volume_XL,_Issue_9017,_14_April_1915)
↑

New Zealand Ministry for Culture and Heritage Te Manatu Taonga. (2005, February 8). Haining Street, Wellington [Web page]. Retrieved July 17, 2017, from /en/photograph/511/haining-street-wellington

↑ 'Chinese settlers sparked some sensational rumours', URL: http://www.stuff.co.nz/national/63695117/chinese-settlers-sparked-some-sensational-rumours, Alex Fensome, 1-Dec-2014
↑ Wanganui Chronicle Another Raid on Chinese Quarters, (Volume 17, Issue 15000, November 1900)
↑ 'Race killing in Wellington's Haining St', URL: https://nzhistory.govt.nz/race-killing-lionel-terry-murders-joe-kum-yung-in-haining-st-wellington, (Ministry for Culture and Heritage), updated 19-Jan-2017
↑ Wellington City Council. (2013). Thematic Heritage Study of Wellington. Retrieved 8 November 2017, from https://wellington.govt.nz/~/media/services/community-and-culture/heritage/files/thematic-heritage-study.pdf?la=en
Related Articles
---
Categories
Map
Scroll and zoom on the map to explore locations in Wellington of significance to the Wellington Chinese community.
Note: Number in black (eg: 8) indicate more than one place of interest. Please zoom in to view.
Pages in category "Haining Street"
Media in category "Category:Haining Street"
Ad blocker interference detected!
Wikia is a free-to-use site that makes money from advertising. We have a modified experience for viewers using ad blockers

Wikia is not accessible if you've made further modifications. Remove the custom ad blocker rule(s) and the page will load as expected.