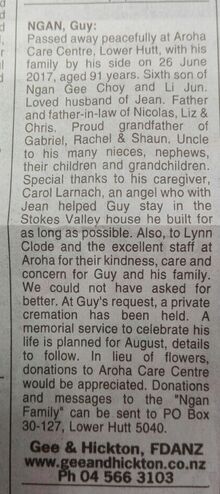 Ngan Kwok Guy
OBE, known as Guy Ngan, artist: b Wellington, February 3, 1926; m Jean, 1d, 1s; d Lower Hutt, June 26, 2017, aged 91.
[1]
Sixth son of Ngan Gee Choy and Li Jun.[2]
Ngan's public sculptures and artworks are a common sight around the greater Wellington area, including on the sides of the Reserve Bank Building, Archives New Zealand Building, on Wakefield Street,[3] inside Parliament Buildings[4], in Stokes Valley[5][6], as well as around New Zealand.[1][7]
In the 1983 Queen's Birthday Honours he was appointed an Officer of the Most Excellent Order of the British Empire for services to the arts.[1]
↑ 1.0 1.1 1.2 Tso, M. (2017, July 15). Life Story: Reformer of public space, artist Guy Ngan dies aged 91. Retrieved from http://www.stuff.co.nz/entertainment/arts/94336015/life-story-reformer-of-public-space-artist-guy-ngan-dies-aged-91
↑ New Zealand Herald. (2017, June 28). Guy NGAN obituary. Retrieved July 16, 2017, from http://notices.nzherald.co.nz/obituaries/nzherald-nz/obituary.aspx?n=guy-ngan&pid=185922655&fhid=12768
↑ McCredie, A. (2017, June 30). Remembering New Zealand artist Guy Ngan (1926-2017). Retrieved July 16, 2017, from http://blog.tepapa.govt.nz/2017/06/30/remembering-wellington-artist-guy-ngan-1926-2017/
↑ New Zealand Ministry for Culture and Heritage Te Manatu Taonga. (2014, October 22). Guy Ngan and Joan Calvert wall hanging, Beehive, Parliament [Web page]. Retrieved July 16, 2017, from /en/photograph/45313/guy-ngan-and-joan-calvert-wall-hanging-beehive-parliament
↑ Johnston, C. (2017, June 28). Guy Ngan (1926–2017) | The Dowse Art Museum. Retrieved July 16, 2017, from http://dowse.org.nz/news/blog/2017/guy-ngan
↑ Edwards, S. (2011, December 12). Twin sculpture to Stokes Valley's mating worms launched. Retrieved from https://www.stuff.co.nz/dominion-post/news/local-papers/hutt-news/6129343/Twin-sculpture-to-Stokes-Valleys-mating-worms-launched
↑ Auckland Art Gallery Toi o Tāmaki. (2017). Guy Ngan. Retrieved July 16, 2017, from https://www.aucklandartgallery.com/explore-art-and-ideas/artist/6471/guy-ngan