CHINESE SUBSCRIBING FOR QUEENS STATUE.[1]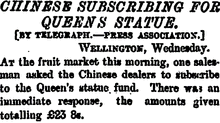 [BY TELEGRAPH PRESS ASSOCIATION.]
Wellington, Wednesday.
At the fruit market this morning, one salesman asked the Chinese dealers to subscribe to the Queen's statue fund. There was an immediate response, the amounts given totalling £23 8s.
---
↑ CHINESE SUBSCRIBING FOR QUEENS STATUE., New Zealand Herald, Volume XXXVIII, Issue 11612, 28 March 1901 http://paperspast.natlib.govt.nz/newspapers/NZH19010328.2.36
Categories
Map
Scroll and zoom on the map to explore locations in Wellington of significance to the Wellington Chinese community.
Note: Number in black (eg: 8) indicate more than one place of interest. Please zoom in to view.