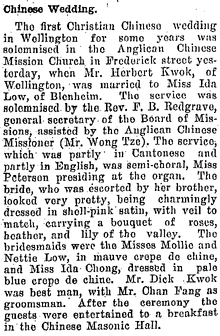 Chinese Wedding.
The first Christian Chinese wedding in Wellington for some years was solemnised in the Anglican Chinese Mission Church, in Frederick street yesterday, when Mr. Herbert Kwok, of Wellington, was married to Miss Ida Low, of Blenheim. The service was solemnised by the Rev. P. B. Redgrave,general secretary of the Board of Missions, assisted by the Anglican Chinese Missioner (Mr. Wong Tze). The service; which was partly in Cantonese and partly in English, was semi-choral, Miss Peterson presiding at the organ. The bride, who was escorted by her brother, looked very pretty, being charmingly dressed in shell-pink satin, with veil to match, carrying a bouquet of roses, heather, and lily of the valley. The bridesmaids were the Misses Mollie and Nettie Low, in mauve crepe do chine, and Miss Ida Chong, dressed in pale blue crepe de chine.Mr. Dick Kwok was best man, with Mr. Chan Pang as groomsman. After the ceremony the guests were entertained to a breakfast in the Chinese Masonic Hall.
Ad blocker interference detected!
Wikia is a free-to-use site that makes money from advertising. We have a modified experience for viewers using ad blockers

Wikia is not accessible if you've made further modifications. Remove the custom ad blocker rule(s) and the page will load as expected.