A BANKRUPT CHINAMAN.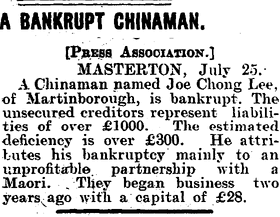 [Press Association.]
MASTERTON, July 25.
A Chinaman named Joe Chong Lee, of Martinborough, is bankrupt. The unsecured creditors represent liabilities of over £1000. The estimated deficiency is over £300. He attributes his bankruptcy mainly to an unprofitable, partnership with a Maori (sic). They began business two years ago with a capital of £28.[1]
---
↑ A Bankrupt Chinaman. (1907, July 25). Bush Advocate, p. 5. Retrieved from https://paperspast.natlib.govt.nz/newspapers/BA19070725.2.24
Categories
Map
Scroll and zoom on the map to explore locations in Wellington of significance to the Wellington Chinese community.
Note: Number in black (eg: 8) indicate more than one place of interest. Please zoom in to view.